Today I would like to share my personal experience and why I am so happy that I purchased the best water storage containers to use on the farm when I had an emergency situation.
Hopefully it will encourage you to do the same.
How easy it is to take our water supply for granted and not realize how important it is to have access to emergency water storage.
Most of us roll out of bed, and head to the kitchen for a cup of coffee or tea, still half asleep. We turn on the tap water and within minutes our morning cup, of whatever, is done and we are on our way to start the day.
Since I live in the countryside, I always have bottled water on hand in case I lose power and along with that, my ability to run an electric pump for the well.
Just this morning, I got up early to feed the horses and put them out, they had been in for 2 days due to storms. Since it wasn't even light outside, I laid back down for a while. When I got up to fix my tea,
NO WATER! Yup! I left the water on in the horse tank!
After an hour of being mad at myself and listening to the rest of the family complain, I pulling the capacitor. I knew I would have to wait hours before I would have water so I used some of my emergency water supply for breakfast, dishes and personal hygiene.
I knew then I needed to write something about having an emergency water supply in case of an emergency.
In my situation, I knew I would have things up and running within a couple of hours and then back to normal. As I said, I live in the country so I always have about 40 gallons of water stored year around. My critters need drinking water as much as I do and that amount will service them for about two weeks if I'm careful and the horse tank is already full.
For household use, I keep 30 gallons and that would be for cooking and drinking. I should probably increase that amount for bathing and just general hygiene. One sure way to get sick in an emergency is to neglect your personal hygiene!
Whether you live in the countryside or in an urban area, having a backup water supply just makes good sense. With all the hurricanes and other natural disasters lately, please think about having a storage unit for emergency water. They come in all sizes and prices.
I have reviewed 7 of them below and hope you will be proactive and consider taking this step in having enough water on hand for your family in the event of a disaster.
7 Best Emergency Water Storage Containers
Carboy 6 Pack, Emergency Water Storage
If you are looking for containers that are BPA free and food grade plastic, the 5 Gallon Carboy,6 pack deserves your consideration. You would be able to store up to 30 gallons of water, total.
Features List
Made in The USA

BPA free, Made of Plastic Resin

6 Containers, Each Holds 5 Gallons

Has 6 Caps and One Spigot With a Wrench

Very Portable Water Supply
When storing water, plan on each person consuming at minimum, one half gallon per day for drinking. You would also have to consider having water to cook with and do some form of hygiene.
This amount would last 2 people about 40 days if they use it for drinking only at the rate of one half gallon a day. If you plan on doing a little cooking or just minor personal hygiene, you're looking at 5-7 days.
There are other things to consider when storing water and what you will need it for. You may have a pet that will need water as they require H2O as much as we do.
It might be necessary to rinse out some unmentionables! If anyone gets injured, you will need to wash out a wound to prevent infection.
This kit comes with a spigot that will be used on each individual container and it is easy to install. It has a membrane in the center of the cap to insert the spigot into. You will then place the container on its side to dispense the water.
This spigot makes it much easier to use and will lessen any possible spills. Each container also comes with a handle so they are easy to carry, move, and store.
Conclusion
The 5 Gallon Carboy, 6 Pack is a great way to get you started in storing water for an disaster situation. The containers are made of plastic resin and is BPA free, meaning it doesn't contain the chemical Bisphenol, of which there are pros and cons about.
You will have 30 gallons of water to use and it can be stored in a small area until needed. It comes with a spigot and spigot wrench for quick access. This company also offers free shipping.
Smart Tank 50 Gallon BPA Free
This Smart Tank will hold 50 gallons of water and is a stackable unit so you could easily purchase two of these and not take of more space than one unit would. That would be a total water amount of 100 gallons and be perfect for an entire family.
Features List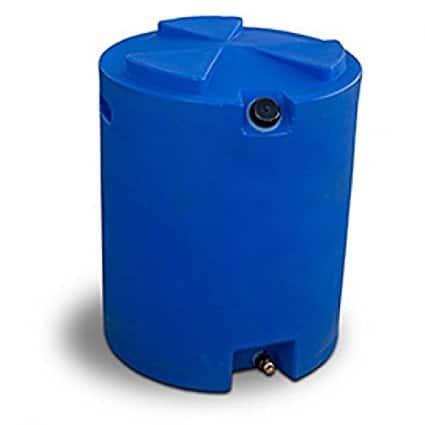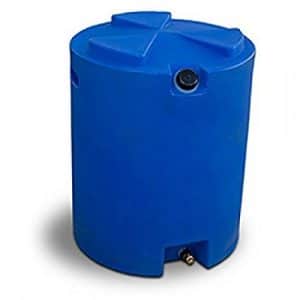 UV Resistant and BPA Free

Stackable and Space Saving

50 Gallon Capacity

Made in the USA

Weighs 24 pounds empty
This water storage tank would be perfect for a larger family and by purchasing two units you would have your water needs covered for weeks depending how many are in your family.
If you decide to purchase more than two don't worry about taking up a lot of space. Each unit dimensions are 23 x 24 x 30 inches so you could store up to six in a 4 x 3 foot area with no problems.
To use the tank, I would suggest that you rinse it out first before adding any water to it for storage. If you want to store for any significant time, you can purchase products to add to the water that will keep it safe for consumption up to five years without any worries.
Reviews of this product show that this company has excellent customer service, that will answer all you questions and will make sure that your unit is serviceable and if not, they will replace it.
Since it is made in the USA, your customer service is "right there".
Conclusion
If you need to store water for a family of more than three, the Smart Tank 50 gallon would be a great choice. By purchasing more than one unit, you will have enough water for the family for numerous weeks.
The Unit is BPA free and UV resistant so the water will always be safe to drink if you store it properly to begin with.
Reliance Products Aqua-Tainer 7 Gallon
This product by Reliance Products is a 2 pack unit. The Aqua-Tainer 7 gallon 2 Pack Rigid Water Vessels holds two more gallons than most single water containers. You can store enough water needs to survive any situation.
Features List
BPA Free Product

Holds 7 Gallons of Water Each

Comes with Built-in Spigot

Rigid Construction For Years of Use

Five Year Warranty
The Aqua-Tainer 7 Gallon Container 2 Pack comes with a built-in handle so it is easy to transport. You can use it for permanent water storage or if you like camping, it is a great way to take your water supply with you wherever you go.
Having a rigid construction it can take a bit of abuse and you can use it more often than other style of containers.
You will have easy access to the water with a built-in spigot so you have an easy way to dispense the water with less chance of spilling it. It has a screw-on vent that the company has improved upon.
The company also offers a five-year warranty against any manufacturer's defects so you can purchase these units without any worries. The dimensions are 15-5/8″ tall x 11-1/2″ wide x 11 1/2″ deep. Storage would take up minimum space so purchasing two or more units would work out well.
Conclusion
If you would like a water storage container that is a little bit bigger than other brands like this, the Reliance Aqua-Tainer 7-gallon 2 pack Rigid Water Vessels would be the right one to purchase.
It is BPA free, has a rigid construction, comes with a spigot and a screw on vent. The five year warranty tells you that this is a quality product.
Norwesco 35 Gallon Horizontal Tank
Are you looking for a cute little storage water tank that takes up very little room and weighs only 13 pounds empty? Have a look at the Norwesco Tank. This tank rugged and is made with out any seams.
Features List
Holds 35 Gallons of Clean Water

Lightweight and Corrosion Resistant

Meets FDA Specifications for Water Storage

Has a 3 Year Warranty

Weighs 13 Pounds, empty
This is a neat looking little water storage tank and it weighs only 13 pounds so you can put it in a corner of the basement for storage and not take up much space.
It's dimensions are 29 x 20 x 23 inches so it is not as big as it looks. It is made of polyethylene and is FDA approved for water storage.
You will need to add extra hardware if you want to hook up a standard hose. You would need a double male 3/4 inch fitting with a shutoff valve, it would probably cost less than ten dollars to do this.
One customer used the following materials for his tank: Bottom outlet is NPT 1″ male or 3/4″ female. I have a 3/4″ ball valve connected to a 3/4″ nipple threaded into the bottom outlet. From there I use a 3/4″ NPT to 3/4″ water hose adapter—water hose to pump.
When the tank is full, it will add 280 pounds to it weight of 13 pounds, so store it where you will have access to a water supply to fill it. The lid has a rubber seal to prevent any debris from entering.
The material it's made of is non-corrosive, light in weight, and has no seams or joints that could rust.
Conclusion
By purchasing the Norwesco 35 Gallon Horizontal Water Tank you have enough water storage for a survival situation in one small corner of your home. The material used to make this tank is FDA approved. Norwesco is North America's largest manufacturer of molded tanks and they offer you a three year warranty on their products.
Water Storage Tank By Augason Farms
If you are looking for a large capacity water storage tank that is ready to go, the Augason Farms Water Supply Kit is the answer to you search. This kit is complete, just fill it and forget it!
Features List
Large Capacity of 55 Gallons of Clean Water

Complete Water Storage Kit, Nothing More to Buy

Made of BPA Free Material

Two Plug Fittings for Easy Filling

Water Treatment Product Included
This product could be called the Cadillac of water storage units. It has everything you need to store water for up to four years, except the water of course.
It comes with Two bottles of Aquamira Water treatment, 2- 2inch Plug Fittings, a 6 foot siphon hose with a hand pump and a barrel opener.
The Company suggests that it be stored in an area that is between 55 and 70 degrees F and is cool, dry, and dark. The water treatment included will treat up to 60 gallons of water and is effective on bacteria, viruses and cysts.
The capacity is 55 gallons, measures 24 x 24 x 35 inches, and weighs 27 pounds.
To learn more about water treatment products visit the site Aquamira.com.

It is suggested that you buy a new white "marine hose"to fill it with to prevent contamination from the garden or outside hose. They are very reasonable in price, not a big expense.
Conclusion
If you are wanting to store a large amount of water in just one container, the Augason Farms Water Storage Supply Kit would work just perfect for you.
This amount of water can be stored with water treatments added before storage for around 4 years.
The kit has everything you need: clean it, fill it, forget it, you have an emergency supply of water.
Water Storage Vessel – Romo Tech Horizontal Square Reservoir, 30 Gallon
The Romo Tech Horizontal Square Reservoir is a great way to have an emergency water storage program. It's capacity is 30 gallons and will take us little room if you store it in the corner of your basement where it will be handy if your water supply is interrupted.
Features List
Capacity of 30 Gallons of Clean Water

Weighs 18 Pounds Empty

Easy Visibility When Filling

Rugged and Well Constructed

Made of Polyethylene
The Romo Tech Horizontal Square Reservoir will hold 30 gallons of water for your storage needs. It is constructed of thick-walled polyethylene and is of a heavy-duty design.
The capacity can be read in either gallons or liters, which ever you are familiar with. Although it is thick-walled you can still see the amount of liquid that is in it so you will know at all times what level of fluid you have.
The top of the tank has a large fill point while the bottom side of the tank has a 3/4 inch interior diameter threaded bulkhead connection. It has many uses but we are thinking water storage. The material of which it is made is not BPA free but there are many opinions on that subject.
Customer reviews are at a 4.7 out of 5 rating so most of them are happy with this tank.
Because of its compact shape and size it can be stored easily just about anywhere. The dimensions are 24 x 19 x 22 inches and when empty weighs in at 18 pounds.
You might want to buy a ball valve and fittings for the reservoir as a convenience factor.
Conclusion
The capacity on the Romo Tech Square Reservoir is an impressive 30 gallons, if you are a single person, this amount of emergency water would last you for about a month for drinking, cooking and minor hygiene.
Since water weighs 8.34 lbs per gallon, this would not be good for an apartment dweller. It is rugged and well construction and will last for year.
You could store this in a corner of the basement out of the way, put a water treatment in and forget it for 4 years. We will hope we never have to use it but what a great thing to have, emergency water storage if the SHTF.
WaterBrick 2 Pack Tan-Stackable Emergency Water Storage
This is a pretty neat product in that it has many uses including storing water. The WaterBrick 2 Pack Stackable containers would be a great way to start out your emergency water supply for natural disasters. It's a good thing to always be prepared for the unknown.
Features List
Each unit Holds 3.5 Gallons

Can Stack up To 4′

Made of High Density Polyethylene

Free Water Spigot

Two Units Weigh 6 Pounds
The dimensions on the product would be (2 containers) 14.8 x 15.91 x 19.21 inches. They have the ability to lock and stack with other WaterBrick products. You can stack them up to four foot high because of their quality construction. They do not hold as much water as other brands, but the lock and stack feature is well worth having.
The two units come with a free spigot that fits both containers and makes it easy to dispense water from them. With the comfort fitting handles, you can carry them anywhere and store them anywhere.
They are FDA approved and for those concerned, they are BPA free. Many customers purchase them to store emergency food in and also ammo as they will not leak and are safe from the elements.
Since the two units weigh 6 pounds, filled with water the weight would be a bit over 60 pounds. This would be a great buy for someone that lives in an apartment and space for storage is limited.
Conclusion
If your storage space is small but you want some peace of mind about an emergency water supply, the Waterbrick 2 pack with Spigot Container would be a smart purchase. The product has water tight lids and you won't have to have those cheap leaky jugs hanging around.
BPA free and FDA approved, no worries about contamination in your emergency water storage container.
Buyer's Guide For Emergency Water Storage Containers
Some facts to consider when purchasing a emergency water storage container are:
How Many People do I Need to Store Water For?

How Long of Time Should I be Thinking About?

How Much Space Will the Storage Container Need?

Is the Container Sturdy and Well Made?

Is the Container BPA Free or FDA Approved for Water Storage?

Do I Need to add a Water Treatment Product to the Water I Want to Store?

How Long is Treated Water Good for Drinking?

Are Containers For Long Term Use?
Conclusion
There is no doubt that having an emergency water storage unit on hand is a smart move. As to what kind to purchase, it will depend on your answers to the questions in the buyer's guide.
If you want to read more about water needs on the run, check out the rest of this site, or if you are interested in a product that you can drink water right out of a pond or river with, read about the Lifestraw here.
Best Water Storage Tanks Conclusion
Now that you have some knowledge about the best water storage containers for emergency situations, think about having a bug out bag ready in case you need to leave your home or apartment after a disaster hits.
Have a look at my review on Bug Out Bags and see if you can find a fit for your lifestyle.
Save
Save
Save
Save
Save
Save
Save
Save
Save
Save
Save
Save
Save
Save
Save
Save
Save
Save
Save
Save
Save
Save
Save
Save
Save
Save
Save
Save
Save
Save
Save
Save
Save
Save
Save
Save
Save
Save
Save
Save
Save
Save
Save
Save
Save
Save
Save
Save