Are you thinking about putting a Bugout Backpack together? Are you just not happy with the premade ones? Read On! I purchased a premade one for my vehicle, but I want MORE!
Most of the premade bug out bags are made to last a matter of hours and that's fine but I want my bug out bag full of supplies that will last for weeks if necessary.
As I learn more about prepping, I realize I need supplies that will last for longer than 72 hours. I need a quality bug out bag that can stand some abuse.
Who know how long I could be on the run and how many times I have to pack and unpack my supplies!!!
Yippee!
I get to go shopping!
Have you tried to stuff all your survival equipment in a flimsy little bag! It's like the lady that buys a new purse but can't get everything she needs in it!
She needs another new purse……..
SO! I need a new bug out bag!
Have you ever tried cutting firewood with a buck knife? It's true, we need to "Get the right equipment for the job."
I went on a search for a quality BOB (bug out bag) that will hold the equipment I'm adding. It has to be sturdy but easy on the body.
I've found three of the best BOB's by SOC. These are the Long Range Bugout Backpack, the SOC Gear Bugout Bag and the SOC Marpat Desert Long Range. Love these names!f course
If you purchase a quality bugout bag you decide what you want in it. If you find a 50 dollar shovel that collapses, grab that sucker and put it in your bag!
Of course, what you need will depend on what part of the country you live in!
If you live in the deep south, you don't need a sleeping bag that's says, "Good for 20 degrees below zero!"
Sandpiper of California that make these BOBs have an eye for quality products so don't be afraid to spend the money! You'll be happy you did!
We're talking about your survival!
I'm going to tell you about the construction, materials used and some great information about the three bug out bags made by SOC.
Construction Of The SOC Long Range Bugout Backpack
The SOC Long Range Bugout Backpack is made of Cordura, a fabric that is known for its' durability and resistance to abrasions, tears and scuffs. You can purchase it in three colors: Camo, Black and Brown.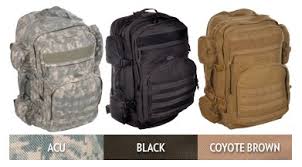 This product is made by the Military Luggage Company and is military grade and meant for those who serve, have served, their family members and US patriots. This product is not water proof but it is highly water resistant because the material used to make it is so dense. You can always spray it with a product called Scotchguard that repels water and dirt.
The capacity of this bug out bag is large enough to carry supplies that would last for several days. The outside measurements are, 26" long 15.5" wide and 10.5" deep and considered to be superior in capacity. I can't really answer how much weight it will hold because everyone will pack what they need for their area of the country.
I do have a friend that uses it and said he carries 20-30 pounds of tools plus other supplies in it. What ever you pack in it, make sure you can carry it for a long time. Take a practice run with it full on a week end and see how you do. The practice run will make you a better bug out bag packer.
Extra Amenities Added to The SOC Long Range Bugout Backpack
The interior of the bag is equipped with multiple compartments, three to be exact and tie downs that allow you to pack it tight for easy transportation and balance.
Maintaining a balanced pack can cut down on fatigue and allow you to travel a longer distance without getting tired.
Each compartment also has a mesh pocket to keep papers or maps secure. There is also an external zipper pocket for many uses. The first compartment has enough room for you to add a water bladder if you have one or plan on purchasing one.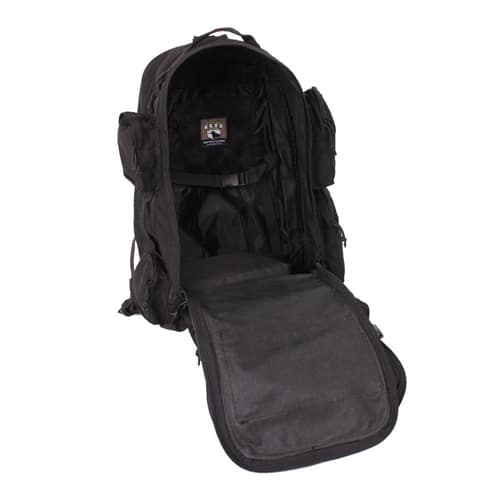 We all understand just how important a fresh supply of water is to survival. Next to having fire, which is the most important, water needs come second.
If you are not interested in a water bladder, make sure that you have some prepackaged water or a LifeStraw with you.
The Long Range Bugout Bag has many attachment points on it so you can add in your MOLLE/PALS pouches supplied with other necessary survival equipment.
If you are not familiar with the term MOLLE, it is an acronym for "Modular Lightweight Load-Carrying Equipment". Being MOLLE compatible means that you have the ability to hook many other small packs to your big pack.
You may want to keep your First Aid Kit on the outside of your main pack so you don't have to dig for it if you have an emergency as you are traveling and need attention quickly.
Keeping your fire starting kit where it is handy is also another use for having a MOLLE hook on the outside of your bug out bag.
There are also 4 small pouches on the outside of the bug out bag, 2 on each side that you can gear up. Once you are out in the wild, you will find a use for every nook and cranny in this survival bag.
How Easy Is It To Carry?
If you look at the photo to the right, you will see that the Long Range comes with padded shoulder straps and adjustable waist band. The back of the pack is mesh lined plastic with a padded lumbar area for added comfort and ventilation.
You have the ability of fold the shoulder straps, and waistband into the hard plastic back and zip it away so it resembles a piece of luggage. This feature is for those that do use this as a travel bag and send it on the airplane to their destination.
By the way, these customers are very satisfied with the construction and durability of the Long Range as it travel on the airlines. That should tell you just how well this product is built.
Let's look at two other quality bugout bag, from SOC. The construction and materials they are made of are the same as the "Long Range"so I won't cover all of that again. Be assured, they are all made by the Military Luggage Company.
SOC Gear Bugout Bag 1000 Denier Cordura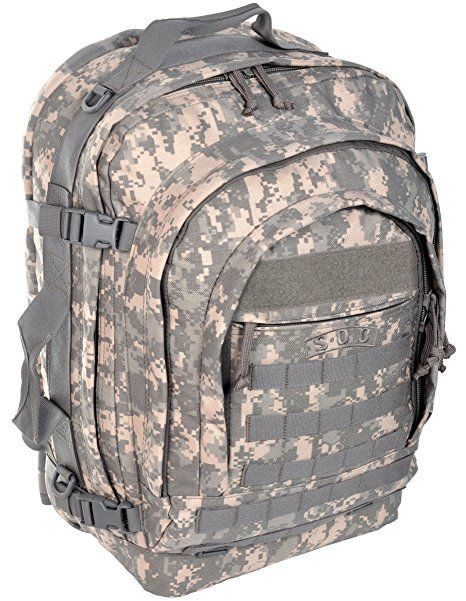 Another quality bugout bag from SOC, also made by the Military Luggage Company is the SOC Gear Bugout Bag made of the same material as the Long Range, Cordura with a denier of 1000. This will prove to be resistant to scuffs and tears. All of the stress points on the product have reinforced stitching.
The big difference in the SOC Gear bugout Bag is the ability of the main compartment to expand for added capacity. Unexpanded, the dimensions are 21″ x 13″ x 9″. If need be, this can be used as a travel big with the handle on the top. As a bugout bag, it has padded shoulder straps and a waist belt that can be folded away if you use it as a travel bag.
The second and third compartments have zippered pockets for storage use but there are no outside storage pouches. It does have places to hook extra pouches to it, with a few small carabiners, you're in business.
Marpat Desert Long Range Bugout Bag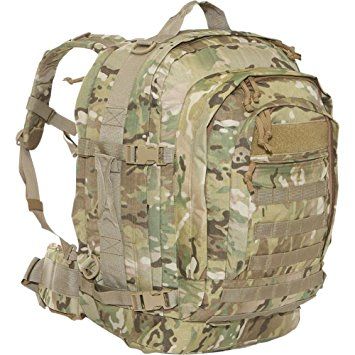 The Next bugout bag we will look at is the Marpat Desert Long Range Bugout Bag by SOC. This product is also made by the Military Company and sold by SOC. It is made of the same quality material, Cordura, 1000 denier, that will resit tears, scraps and abrasions.
The Marpat Desert is camo design and has a very large backpack that measures 26″ x 15.5″ x 10.5″. The main compartment is expandable and you can use a hydration system, (camel bak) that fits in the main compartment with ease. You will still have plenty of room for survival supplies.
The shoulder straps are padded and non-slip, and the waist belt is also padded for added comfort. If you just want to carry it, you can tuck away the shoulder straps, waist belt and carry it by the padded handle.
There are attachment points that are webbed and you will also have an accessory carabiner. There are also 4 outside small pouches for survival gear.
Making the Decision To Buy an SOC Bugout Bag.
We have looked at how the SOC Long Range Bugout Backpack, the SOC Gear Bugout Bag. and the Marpat Long Range Bugout Bag measure up. They are all well constructed and we know that the Military Luggage company makes quality equipment.
The capacity of each backpack is in the high range and since they are MOLLE compatable, you can carry even more supplies and kits.
You can distribute the weight evenly and each has padded shoulder straps, adjustable waist belt, and some have a padded lumbar area.
You can even fold the straps and waist belt in a compartment and zip it shut and they can pass for a piece of luggage.
When looking at the price, it is not out of line for such quality products. Don't be like I was, buy an "L-cheapo" bag the first time out and then have to replace it–TWICE!
You get what you pay for and this is a good product.
If you are not sure about what all to include in your bug out bag, read my article on this site about "Building Your Own Bug Out Bag at home, it should help you out. As always people, "Keep Your Chin In The Wind".